Where Is Your Office?
My office is anywhere I want it to be but my favorite place is on my sofa with the sunset behind me like in this photo.
I get asked on a daily basis various blogging questions and it makes me realize just how far I've come in the blogging world.
What I mean by that is I went from blogging as a hobby to blogging as a business and it has been one heck of a transformation.
I remember reading about other bloggers who were making a living blogging. Shoot… some were making more than a living. They were bringing in 6 figures from blogging, and I couldn't wrap my head around how I could do that too. It seemed so complicated.
Full disclosure. I am not making six figures! I do not want you to think that. This is still new to me but I am making money from this blog which is pretty damn amazing and I will make six figures from it and more.
[affiliate disclosure: I may get a small commission if you make a purchase through the links on this page at no additional cost to you]
This blog helps give me another income stream to continue living the location independent lifestyle.
There is a ton of work that goes into blogging but it is something you can do in your spare time, have fun with, and turn into a full-time career.
Things truly changed for me once I took Nomadic Matt's The Business of Blogging Business Course and here's why.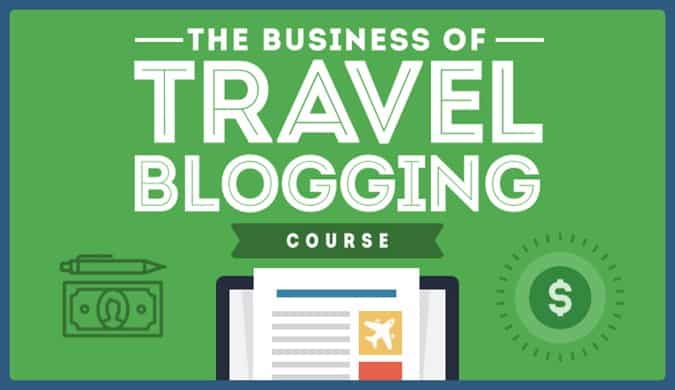 Tons Of Support
This course gives you access to a closed Facebook group where you can be around other bloggers and get chances of collaborations plus all the support you need.
Collaborations with other bloggers are super important. In order to get your blog to rank higher on Google, you need to build your domain authority. A great way to do that is to get links for your blog on a higher ranking blog.
This group will give you access to a lot of bloggers you can connect with and collab with.
How Do You Do This?
You get a tech guy to help you with all the things that are keeping you stuck technical wise. I spent so much time trying to figure out various technical things on my blog. It took away from time I could have spent actually creating content.
Luckily, with the course, I got access to Nomadic Matt's technical guy which made things so much easier. Actually, I would argue that alone is worth the price of the course.
A Lifetime Of Information
You get an amazing self-paced course with lifetime access. This means that you get to keep going back to see the modules and learn even more. Currently, I am working through it for the second time and learning so much more.
You are learning from the best. Nomadic Matt grew his blog into a six-figure business and you can too. You are already on the right path because you are here learning about the blogging course you need to take to launch you to the next level in your business.
This isn't for hobby bloggers. This is for bloggers who are ready to make money.
Are You Ready To Make Money?
If you want to blog and actually make money, you need to take the necessary steps to turn your blog into a money making business. Sign up for this course today. Stop delaying.
There is a payment plan so there shouldn't be any excuses as to why you can't do the course right now. You are either ready to actually make money or you are not. There is no other way. You have to invest in yourself and business. Start today by clicking here and signing up right now.